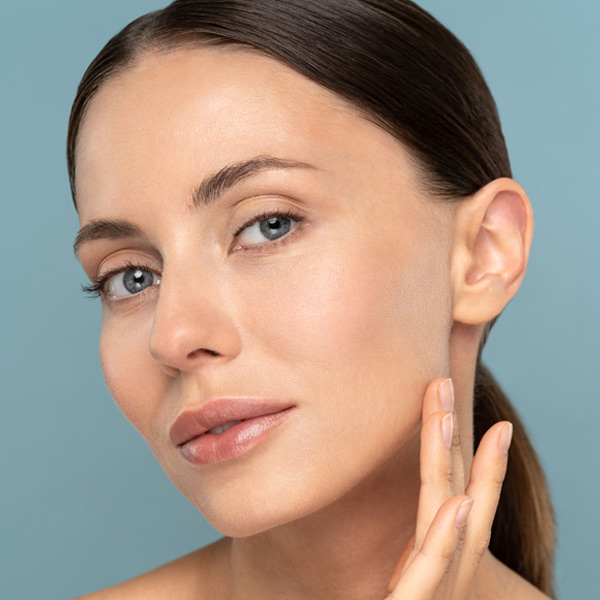 Skin boosters are ultra-pure hyaluronic acid injections that enhance collagen and elastin production, leading to improved skin firmness. By drawing water into the deeper layers of the skin, these injections stimulate the tissues, resulting in notable improvement and ultimately producing a tightening or lifting effect on the skin.
Skin boosters can be used to address various areas such as the neck, decolletage, hands, stomach, arms, knees, legs and face.
ARE SKIN BOOSTERS RIGHT FOR ME?
Skin boosters, a treatment aimed at softening fine lines, wrinkles, and revitalising the skin for a more youthful and plump appearance, are suitable for most patients. In your consultation, our experienced doctors or nurses will assess your concerns and determine if skin boosters are the appropriate treatment for you.
BENEFITS OF SKIN BOOSTERS
• Skin boosters are suitable for most patients.
• They effectively soften fine lines and wrinkles.
• Skin boosters revitalise the skin, giving it a plumped appearance.
• The downtime and swelling associated with skin boosters are similar to that of fillers.
WHAT DO SKIN BOOSTERS INVOLVE?
A minimum of two skin booster treatments is recommended, with each treatment injected into the area four weeks apart. In some cases, additional skin booster treatments may be necessary to achieve optimal results for certain patients.
WHAT RESULTS CAN I EXPECT FROM SKIN BOOSTERS?
The effects of skin boosters are long-lasting, as the product remains in the skin for approximately 28 days. During this time, it continuously stimulates collagen and elastin production by gradually releasing Hyaluronic Acid. The visible results become most noticeable after 4 weeks, and by 8 weeks, you will observe a youthful, hydrated and glowing appearance of the skin. A minimum of 2 treatments, spaced 4 weeks apart, are typically required.
To set accurate expectations, it's important to note that some clients, particularly for the neck and hands, may need 3 skin booster treatments to achieve full results. Therefore, we recommend a minimum of 2-3 treatments for all clients. Maintenance treatments are typically recommended every 6-9 months, although some individuals may experience results lasting 12 months or more.